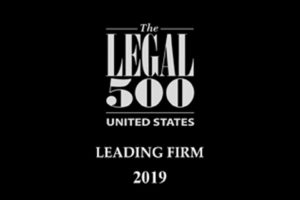 MIAMI – June 20, 2019 – Diaz, Reus & Targ, LLPannounces that the Firm has been recognized by the prestigious international legal guide The Legal 500 USA 2019, for "International Litigation" and "White-Collar Criminal Defense: Advice to Individuals". The Legal 500 ranks law firms across the nation in particular areas of practice, making the selection process highly competitive.
Regarding Diaz Reus' Corporate Investigations & White-Collar Criminal Defense practice, The Legal 500 USA 2019 commented: "The 'respected' Miami-based team at Diaz, Reus & Targ, LLP is noted for its 'excellent knowledge of domestic and international law', providing 'excellent customer service' to a broad base of clients across Latin America. Key areas of expertise include matters pertaining to national security, public corruption, human rights violations, asset recovery, OFAC, homeland security, specially designated nationals and the recovery of visas. The group is defending former Honduran Presidential candidate, Yani Rosenthal, in federal court in the Southern District of New York, where he has been charged with various counts of money laundering. It is also representing the Central Bank of Venezuela in all of its US compliance issues and sanctions matters. Founding partners Michael Diaz and Robert Targ lead a team which includes Marta Colomar-Garcia and of counsel Juan Vargas.
As to the International Litigation practice, The Legal 500 USA 2019 states that
The 'tenacious team' at Diaz, Reus & Targ, LLP is noted for its work involving Latin American clients. The Miami based boutique firm has 'a small, but impressive dispute resolution practice'. Managing partner Michael Diaz (who has earned a reputation as is 'a guru' among his clients) takes the lead in cross-border criminal disputes and also has experience in commercial arbitration. Gary Davidson, who represented the Venezuelan state entity Ferrominera Orinoco in a complex case concerning sovereign immunity, is 'a towering force and a master of detail and argument'.
For more information, please visit www.diazreus.com and www.legal500.com