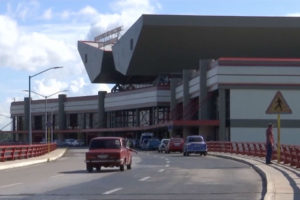 The Trump administration's campaign of "maximum pressure" on Cuba has hit the country so hard that foreign companies refuse to sell planes to the island's government and ships refuse to dock at its ports, the Cuban minister of transportation says.
In a remarkably candid appearance on Cuban television Tuesday night, Transportation Minister Eduardo Rodríguez detailed how badly the island has been affected, in an effort to explain the mounting problems facing public transport.
Over the past year Cuba has been hit by a double whammy: U.S. sanctions to punish the island for propping up the government of Venezuelan leader Nicolás Maduro, and a newly strengthened federal law that has allowed Cuban Americans whose commercial property or land was expropriated by the Castro government to sue foreign companies that use those properties in Cuba.