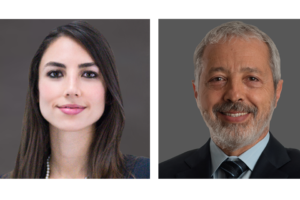 MIAMI, July 16, 2018 – Miami-based global law firm Diaz Reus & Targ announced today that two attorneys have joined the firm's headquarters to reinforce the international tax department: Of Counsels Julio Barbosa and Bruna Barbosa.
Julio Barbosa, multilingual (English, Portuguese, Spanish and French) and dual qualified in the United States and Brazil, began practicing law 40 years ago in Brazil and has spent most of his career helping foreign clients (business entities and individuals) who want to do business in the United States. Julio has extensive experience in International Taxation and International Transactions. He assists clients in a variety of cross-border transactions in Latin America and in the United States, including drafting distribution contracts, creating subsidiaries, and counseling in large investments in real estate properties.
Bruna Barbosa, admitted to practice law in Florida, focuses her practice on advising individuals and businesses on international inbound and outbound tax issues. She counsels clients on U.S. real estate investments, business organizations, cross-border transactions, pre-immigration tax planning, estate planning, and trusts. As a Brazilian native that was raised in the USA, Bruna worked within Volkswagen's Legal Department in Germany, and with a renowned international law firm in New York. Bruna's legal acumen in the field of international taxation has led her to be a featured speaker in conferences in Latin America and the United States. She speaks English, Portuguese, Spanish and German.
"We're thrilled to join Diaz Reus and we look forward to providing full-fledge tax services to its clients," commented Julio Barbosa.
Michael Diaz, Jr., Diaz Reus' Global Managing Partner, explained that "the addition to our Tax Department of two highly specialized attorneys will considerably reinforce our capacity to meet our clients' international tax related needs. We are delighted to welcome Bruna and Julio."
Media contact:
Marta Colomar-Garcia, Administrative Managing Partner
(+1) 305-375-9220