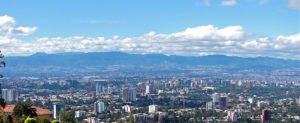 Miami – Fla., Dec. 7, 2017 – Global US law firm Diaz, Reus & Targ, LLP announced it is opening an office in Guatemala, which will be led by national prominent attorneys Manuel Arturo Soto and Rodolfo Sosa de León.
Manuel Arturo Soto practices law since 1969. Mr. Soto is a former member of the Guatemala Congress, the Latin American Parliament, and the Monetary Board of the Central Bank of Guatemala. Mr. Soto was appointed by the Congress of Guatemala as Justice of the Supreme Court. He also served as Minister of the Interior under President Oscar Berger Administration and acted as Guatemala's ambassador to Mexico and Jamaica. Mr. Soto occupied the position of General Counsel of an US Based Company for its Latin America operations and currently serves as President of the Mexican Chamber of Commerce.
Rodolfo Sosa de León has also been practicing law for more than 40 years. For more than 15 years, Mr. Sosa served as President and Chairman of the Board of Basic Resources. He is a former member of the Center for the Defense of the Constitution of Guatemala (CEDECON), and a former professor of Notarial Law and Civil Procedural Law of the Faculty of Legal and Social Sciences of the Rafael Landívar University and the legal Advisor of the Francisco Marroquin University (ad honorem). He was member of the board of trustees of the Universidad del Istmo. Mr. Sosa is an active member of the arbitration roaster of one of the main arbitration centers of Guatemala. Mr. Sosa has also acted as Chair of the Litigation Practice of one of the most prestigious law firms in Guatemala. Mr. Sosa currently holds the position of Chairman of Empresa Petrolera del Itsmo (EPI).
Michael Diaz. Jr., Global Managing Partner of Diaz, Reus & Targ, commented: "Our lawyers offer a network of international services that can address the most pressing challenges and present solutions in a timely manner. Our presence in Guatemala will considerably strengthen the firm's ability to provide timely, reliable, and effective legal advice in the country."
Diaz, Reus & Targ, LLP operates on five continents, across 22 offices in key business centers, offering a global practice centered around national and transnational parallel proceedings and transactions in the following broad areas: sovereign immunity, trade, commerce, finance, and fraud; civil litigation and arbitration; asset identification, location, tracing and recovery; white collar crime, regulatory, and criminal investigations and defense in matters of corruption, bribery, money laundering, Foreign Corrupt Practices Act, OFAC, Specially Designated Nationals, and the Bank Secrecy Act; and politically sensitive investigations including the recovery of U.S. immigration status and visas. The firm is headquartered in Miami, Florida.
For more information, visit diazreus.com
Media Contact:
Marta Colomar-Garcia, Administrative Managing Partner mcolomar@diazreus.com
Tel: + 1 305-375-9220