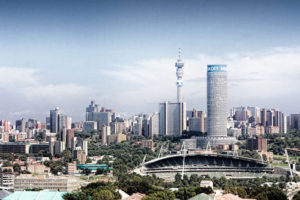 Miami – Nov 11, 2019.
Miami-based global law firm Diaz Reus & Targ, LLP announced the opening of its first of several offices for the African continent in Johannesburg, South Africa, last week.  DRT's Johannesburg office will allow its clients to take advantage of the burgeoning opportunities in South Africa, following President Cyril Ramaphosa's call for international investment.
The office will be led by Yamkela Makupula, whose experience includes working as an economic policy advisor to the South African government on the eradication of poverty and unemployment. She is also a former PwC Partner and a business strategist for private sector firms in South Africa.
The office launch was attended by three hundred industry leaders. Deputy Minister, Obed Bapela, welcomed the law firm to Africa in his introductory remarks to the well-attended breakfast and office launch.
In an open discussion, the panelists – Bridgette Motsepe, Pan African Parliament Ambassador and Businesswoman; Michael Diaz Jr., Diaz Reus Global Managing Partner; Yamkela Makupula, CEO of Diaz Reus Africa; and Adv. Louisa Zondo, former Public Protector CEO – discussed issues pertaining to state capture, corruption, money laundering and U.S. economic sanctions, land rights, Africa integration, and investments.
Other DRT attorneys attending the office opening ceremony included Administrative Managing Partner Marta Colomar-Garcia, Partner Ahmand Johnson, Associate Attorney Ta'Ronce Stowes, International Consultant Christian Schoepp, and Nigerian Attorney Prince-Alex Iwu.
The ceremony took place after a busy week for the Diaz Reus team, who attended the 2019 South Africa Investment Conference. In addition, Michael Diaz Jr. introduced the firm to the South African business community in a live interview on Newsroom Afrika, the South African 24-hour news channel on DSTV Channel 405.
Michael Diaz Jr. commented: "This is the fulfillment of a life-long dream and goal for me and my firm to be present and contribute to the future of Africa."
Media contact:
Marta Colomar-Garcia, Administrative Managing Partner
mcolomar@diazreus.com
(+1) 305-375-9220