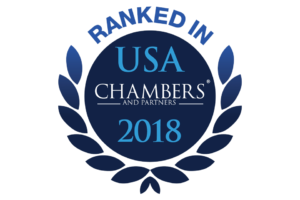 MIAMI – May 10, 2018 – Miami-based, global law firm Diaz, Reus & Targ, LLP announces that the Firm, its Global Managing Partner Michael Diaz, Jr. and Partner Gary E. Davidson have been recognized by Chambers USA 2018 for "Litigation: General Commercial, Florida".
The most sought-after USA legal guide, Chambers USA 2018, commented that Diaz Reus is "held in high esteem for its experience dealing with cross-border disputes, it has a focus on Latin American matters and cases with parallel proceedings. It enjoys a fine reputation for its work in financial fraud cases, and is also noted for its strengths in shareholder and contract disputes.
Sources state: "Their main strength is the way they manage the relationship with clients, establishing a mutual confidence in order to understand the problems and focus on the best solution."  Clients report that the team is "reliable, responsive and reasonable. I think very highly of them – they are consistently good."
For his part, Managing Partner Michael Diaz, Jr. is noted as having "a complete understanding about the legal procedures and the best routes to be followed – his performance is excellent."
Key recent work of Diaz Reus' litigation team includes the representation of C.V.G. Ferrominera Orinoco in defense of a Rule B maritime attachment action brought by plaintiffs Commodities and Minerals Enterprise; and the representation of eight classes of bondholders in actions against the Republic of Argentina following its 2001 defaulting on sovereign debt. The bondholders collectively held around $400 million in defaulted bonds. Diaz Reus represents Brazilian based Ortiz Gaming in a commercial dispute brought in the United States.
For more information please visit www.chambersandpartners.com
Media contact:
Marta Colomar-Garcia, Administrative Managing Partner
(+1) 305-375-9220