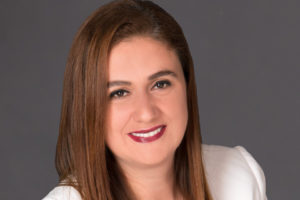 MIAMI, September 26, 2019 – Miami-based global law firm Diaz Reus & Targ, LLP announced today that the Head of the Bogota office, former Associate Attorney Marcela Cristina Blanco, has been named Partner.
Marcela, who joined the firm in 2011, is a multifaceted bilingual international attorney, licensed to practice in both the U.S. and Colombia. She is knowledgeable and experienced in international business transactions and cross-border disputes.
A Certified Anti-Money Laundering Specialist (CAMS), Ms. Blanco counsels corporate clients in governance, entity formation, and relevant local and international jurisdictional regulations.  For the past 3 years, Marcela has been named as one of the Latinvex Top 100 female lawyers specializing in Latin America for her achievement in the area of litigation and arbitration in Latin America.
She earned her Juris Doctor Degree from the University of Kansas School of Law, as well as her degree in Law and Master in Corporate Law from the Universidad Javeriana of Bogota, Colombia.
Michael Diaz, Jr., Diaz Reus Global Managing Partner, comments that "Marcela has a deep understanding of international, commercial and trade disputes and she has been a key contributor to the ongoing success of our firm in Bogota."