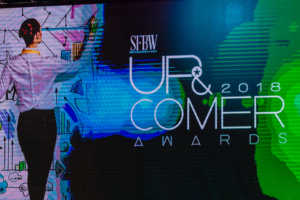 Miami, June 8, 2018 – The South Florida Business & Wealth has announced that Fausto Sanchez has been recognized as a finalist at its Up and Comer Awards 2018.
The awards honor young professionals who have achieved excellence in their careers, shown a commitment to their community and demonstrated leadership.
Fausto Sanchez is a bilingual trial attorney based in Diaz Reus' Miami office. His practice is focused on complex commercial litigation and white collar criminal defense, on both the trial and appellate level. He holds Board Certification in the area of Criminal Trial Law from the Florida Bar and is a Certified Anti-Money Laundering Specialist. He is admitted to practice in the State Court of Florida, the Federal Court in the Southern District of Florida, and the District of Columbia. Mr. Sanchez is also a National Football League Certified Contract Advisor, representing professional football players in all aspects of contract negotiations.
Prior to joining Diaz Reus, Mr. Sanchez worked as an Assistant State Attorney in Florida's Seventeenth Judicial Circuit, where he handled thousands of criminal cases, ranging from violent first-degree felonies to complex economic crimes. In his three years as a prosecutor, Mr. Sanchez tried nearly 50 cases before jurors of Broward County and received recognition for obtaining important convictions in cases involving habitual offenders.
Mr. Sanchez is a peer review rated AV Preeminent attorney by Martindale-Hubbell and is a Vice Chair on the International Ethics Committee for the American Bar Association section for International Law. He was selected as a Florida Super Lawyers Rising Star for 2017 and 2018.