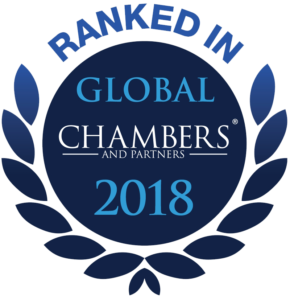 MIAMI – February 20, 2018 – Miami-based, global law firm Diaz, Reus & Targ, LLP("DRT") announces that both the firm and its Global Managing Partner Michael Diaz, Jr. have been recognized by Chambers Global 2018 for "Corporate investigations, Latin America-wide". Additionally, Michael Diaz, Jr. has been recognized again in 2018 by Latinvex as one of the Top 100 Lawyers doing business in Latin America among international law firms in 2018, earning distinction for his achievement in the areas of "Arbitration and Litigation" as well as "FCPA -Foreign Corrupt Practices Act- and Fraud".
The most sought-after global legal guide, Chambers Global 2018, commented that
 "The firm –Diaz, Reus & Targ– provides a very specialized service; the lawyers are all experienced and have strong backgrounds in this field. Practice head Michael Diaz is experienced in complex compliance matters, notably financial fraud and cross-border white-collar crime. He is routinely retained by a broad roster of clients, including multinational corporations, public officials and financial institutions. He stands out to interviewees for being 'efficient, effective and attentive to clients."
Regarding Latinvex, the daily online news and business publication covering Latin American legal, tech, and energy sectors stated that "Cuban-born Michael Diaz is one of the top litigators of Latin America-related cases and has spearheaded his firm's continued expansion throughout Latin America and globally the past year… Chambers Latin America 2018 singles out his Latin America-wide corporate crime & Investigations work."
Key recent work of Michael Diaz, Jr. and DRT includes representing a Venezuelan national in a civil litigation matter with thirteen counts of fraudulent money transfers from two Panamanian and Floridian companies. Independently, the Department of Homeland Security (DHS) is investigating the parties to the lawsuit for alleged corruption with PDVSA contracts. The Firm and Diaz also represented Yani Benjamin Rosenthal Hidalgo in the criminal matter styled U.S. v. Yani Benjamin Rosenthal Hidalgo, et al. in the United States District Court for the Southern District of New York, and to remove him from the Office of Foreign Assets Control ("OFAC") Specially Designated Narcotics Trafficker List ("SDN List") pursuant to the Foreign Narcotics Kingpin Designation Act. Additionally, the Firm and Diaz also successfully represented Mexican citizen and businessman John Fredy Cuellar Silva, who was listed by OFAC on the SDN list for its link with Joaquín "El Chapo" Guzmán as an alleged partner and financial front-man. Thanks to DRT's efforts, Cuellar Silva was removed from the OFAC list. The Firm and Diaz also represent former Traffic Sports & Imagina USA representative, Fabio Tordin, in criminal indictment in New York relating to FIFA case.
For more information please visit www.chambersandpartners.com and www.latinvex.com
Media contact:
Marta Colomar-Garcia, Administrative Managing Partner
(+1) 305-375-9220