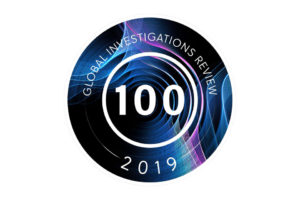 MIAMI – October 30, 2019 – Miami-based Diaz, Reus & Targ, LLP announced that the firm was selected to the prestigious 2019 Global Investigations Review annual guide, the GIR 100. The GIR100 represents the top 100 law firms from around the world that are able to repeatedly handle sophisticated, cross-border government-led and internal corporate investigations. The GIR100 law firms are also proven to have earned the trust of clients, other law firms, and the government agencies in the jurisdictions in which they operate.
GIR100 commented that "Diaz Reus & Targ, a Miami-based firm with strong roots in Latin America, has developed a focus on advising prominent companies and individuals in corruption, money laundering and sanctions matters."
The Global Investigations Review is a London-based publication offering daily news, analysis and live events focusing on the law and practice of international investigations.
Diaz, Reus & Targ, LLP is the founder of DRT International Law Firm & Alliance, a global network of law offices that provide legal services throughout 30 offices in the U.S.A., Latin America Europe, Asia, the Middle East and South Africa.
The firm has successfully continued building its niche in handling the most sensitive and delicate cases and investigations in Latin America – Venezuela, Honduras, Guatemala, Nicaragua, Mexico, El Salvador – with alleged ties to Iran, Hamas, Hezbollah, Russia, China and other relationships currently considered national security risks to the US. The US will continue to roll out legislation such as the Magnitsky Act, Presidential Executive Orders, OFAC and FINCEN sanctions to stem the flow of these national security risks. Our law firm continues to expand its expertise in these areas while successfully resolving those delicate and sensitive investigations on behalf of its US and Latin American based clients.
Media Contact:
Marta Colomar-Garcia, Administrative Managing Partner
+ 1 305-375-9220