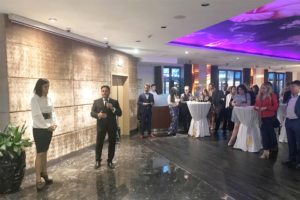 Miami – May 30, 2018 – Miami-based Diaz, Reus & Targ, LLP celebrated the launch of its Moscow affiliate, LegalLife-Diaz Reus, at a gala held in the top-floor ballroom of the St. Regis Hotel. With a view overlooking the Kremlin and Nikol'skaya, the gala was attended by 150 guests, including top executives, managers, general counsels, and investors. Attending on behalf of the Miami office were Founding Partners Michael Diaz, Jr. and Robert Targ, as well as Administrative Managing Partner Marta Colomar and Partner Brant Hadaway.
LegalLife-Diaz Reus was represented by Managing Partner Marina Zinovieva, Senior Partner Massimiliano Ballotta, and Partner Marina Lyssenko.
On May 18, Michael Diaz, Jr. and Robert Targ gave a presentation on "Myths and Truths of U.S. Sanctions," sponsored by the American Chamber of Commerce, at the Metropol Hotel in Moscow.