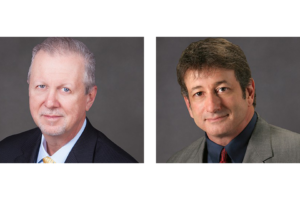 On Friday, February 21, 2020, the judges of the Third District Court of Appeal held oral arguments at The Donna E. Shalala Student Center at the University of Miami.  Chief Judge Kevin Emas, Judge Edwin A. Scales, III, and Judge Monica Gordo served on the panel.
Among the appeals heard by the panel was Palace Resorts, Inc., et al v. Chacko.  Partners Brant Hadaway and Gary Davidson of Diaz Reus appeared before the court on behalf of Raine Chacko and Brant Hadaway presented the oral argument on behalf of the Plaintiff/Appellee, Raine Chacko.
At the end of the session, the panel answered questions from students of the School of Law.  This was followed by a lunch with the judges of the panel and those attorneys who had presented argument that morning, together with a select group of law students.  Mssrs. Hadaway and Davidson enjoyed the opportunity to answer questions and offer advice to the students during the lunch.